About Me
Brief Background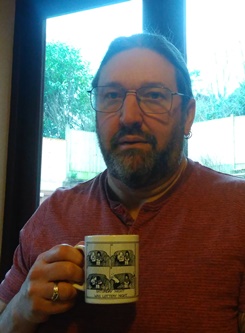 My name is Stuart and I am in my early sixties. I live in semi-rural Shropshire in the UK, close to Telford and Shrewsbury. I am a qualified counsellor holding a Foundation Degree in Counselling and I have worked in a variety of paid and voluntary roles in the counselling sphere. I spend some of my time doing mid- to long-term counselling and some doing very focused, brief intervention work in GP surgeries.
What I bring to counselling
Counselling is my second career. Immediately prior to retraining as a counsellor, I worked for twenty seven years as an IT professional in both technical and managerial roles, mainly in large corporate environments. Towards the end of this career I spent time working as an employee representative at both local and national levels with both my union and also my employer's Works Council structures. Prior to my time in IT, I had a variety of jobs in printing and book-binding, hospitality (i.e. barwork), and with a builders merchants.
I believe that these former roles have given me a rich and diverse experience of life and many life skills. In particular, my work as a manager and union/employee representative meant I interacted with many different people at many levels. My IT work in the context of complex corporate environments has fostered an excellent ability to understand "The Big Picture" at the same time as being able to comprehend detail, minutiae and nuance. I believe these skills augment my ability to interact with others and to bettter understand what they relate.
Professional Membership
I am registered member (Certificate Number 079314) of the British Association of Counsellors and Psychotherapists (BACP) and abide by their Ethical Framework for Counselling and Psychotherapy. I hold an enhanced DBS (formally CRB) certificate and have full liability insurance. I am registered with the Information Commisioner's Office.
BACP Web Site
Check my BACP registration
View my entries on :
View my ICO registration :
&
---